Everyone wants more opportunities, more leads, and more traffic. This article will show you how to increase leads to your dealership in 5 different ways and how to improve performance with existing traffic.
Do I need more leads?
Above anything else, the first step is to evaluate whether or not your dealership needs more leads. Before investing in generating more leads you want to make sure that you are prepared to manage them. This means considering both process and staffing.
Evaluate your lead management process by looking at appointment set, appointment shown, and lead-to-sale percentages for phone and internet leads, individually. If your internet lead-to-sale percentage is below 10%, then lead generation likely isn't the biggest opportunity. For a dealership with 400 leads a month and an 8% lead-to-sale percentage, they will need an extra 100 leads to have the same number of sales as a dealership with the same number of leads and a 10% lead-to-sale percentage.
400 Leads x 10% = 40 Cars  
500 Leads x 8% = 40 Cars 
From a staffing perspective, we recommend a dedicated BDC representative for every 150-200 leads per month. One person can manage more than that but it is likely that the lead-to-sale percentage and customer experience will suffer.
After deciding that you do actually want (or need) more leads, consider these 5 ways to increase leads or at the very least improve the ROI of marketing spend.
1. Routinely Evaluate Third Party Providers
Before going and investing in additional third-party providers to boost lead count, there are likely ways to improve performance with current spend.
To properly evaluate a third party provider you need to ask three questions:  
Am I getting the performance I need from this provider?

Is this provider right for my dealership?

Am I getting a good deal?
Am I getting the performance I need from this provider?
Evaluating performance must be done with a minimum of three months data. This data should include total lead count, appointments set, appointments shown, sales, front gross, and back gross. Unless you are looking at 6+ months of data, we recommend looking at totals for the last X number of months rather than looking at each month individually. This will provide more accurate numbers for overall performance instead of focusing on the month-to-month variance. 
While we likely wouldn't endorse using a third party provider that doesn't cover their cost with gross from sales they generated, there are several reasons why you may want to consider keeping lower grossing providers. Buyers from these lower-grossing providers may be purchasing vehicles that are over-aged and you likely would have wholesaled. For these reasons, we can't simply put standardized numbers over the expected performance of third-party providers. 
Also, consider if there is something in your internal process that may be treating leads in a different way causing lead-to-sale numbers to drop for particular providers. You may notice that a provider generates a higher lead-to-sale but that may also be a result of more phone calls from that source. Consider what about that source generates more phone calls and how you can duplicate that performance.
At nearly every step of this article, we will discuss inventory. Inventory is one of the few differentiating factors a dealership owns. All of the performance metrics discussed in this article are likely influenced by the types of vehicles you have in stock and their price. Most third party reps will tell you this is the problem if you aren't generating enough leads. While this may be the case, don't adapt your business model to cater to a third-party lead provider. We have experts to help you manage your inventory if this is the primary objective. Click here to set up a video call.
Important: All of these evaluations assume accurate sourcing and reporting. If there is a tracking problem, that should be the top priority above generating more leads. You can't fix what you can't measure.
Is this provider right for my dealership?
As mentioned above, each provider attracts different demographics and that does vary from market to market. If you aren't a price-based store, don't invest in as many price-based third-party providers. You won't get the type of exposure you need to have the expected return on your investment. Also, even when your vehicles are seen, there is a good chance that the conversion rate will be lower than expected. Be careful not to make generalizations or assumptions about providers based on small amounts of data or perception.
Am I getting a good deal?
The results of the first two questions are going to better equip you to answer this one. Talk with your provider's rep to see if there are other packages available to upgrade or downgrade that may be better values.
We recommend asking these three questions monthly about every provider without putting too much stock in the performance of individual months.
2. Improve website conversion rate
As discussed in the introduction, improving results on existing opportunities is likely where the largest opportunity lies. One of the ways to increase lead count is to improve the conversion rate on the website.
What is a website conversion rate?
Your website conversion rate is the rate at which a user completes a designated goal. For this purpose, the conversion rate is the rate at which a user on your site becomes a lead, whether by phone or form submission. This can be tracked with Google Analytics which most website providers install on your website. Google Analytics is absolutely essential to managing your digital storefront. A 1% conversion rate is a bare minimum. 2% conversion rate is the goal for most dealerships. We believe there is still room for improvement if you are below 4-5%.
Tip: Link Google Ads to Google Analytics to create a remarketing list. This list of of users that were on your site but didn't convert can be targeted with specific ads driving them back to the website. 
There are three main factors that control the website conversion rate for dealerships:
Type of users on the site

Website performance and optimization for conversions

Inventory
Types of users on the site
This is the most important factor because you won't be able to determine how the other factors are affecting performance until you have the right users on your site. So, what determines the right kind of user?
First of all, you want to make sure you are attracting local and likely buyers. If you are bidding on broad keywords with paid search that relate to your business, but are too broad and attracts users that aren't in the market for a vehicle, then all performance metrics will likely suffer.
In their 2018 Dealer Guidebook, Google shows a funnel(pictured below) for the typical customer during their purchasing process. The "Ready to Buy" keywords should be where the majority of Pay-Per-Click(PPC) spend is focused. This will increase the conversion rate and ROI of the PPC spend.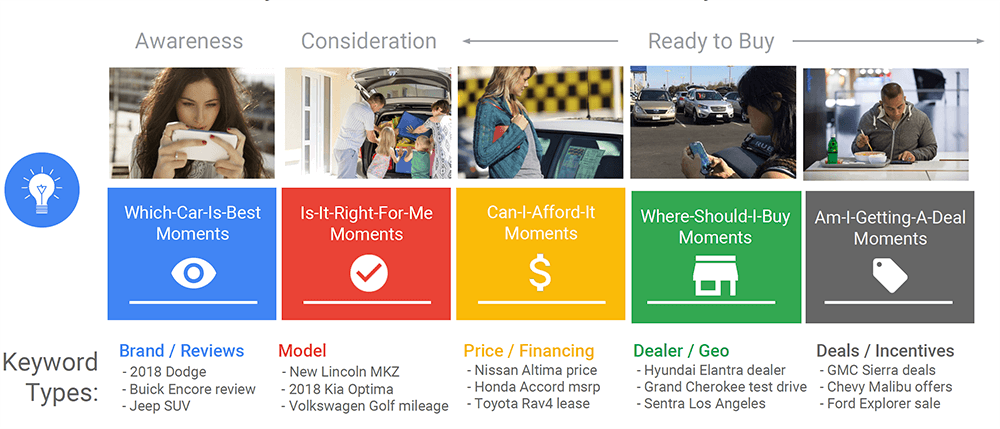 Monitor key performance metrics and filter for all types of traffic sources. This means look at organic and paid traffic individually, as well as referral, social, etc. The most important metrics to follow are time on site, sessions per user, pages per user and bounce rate. These metrics all indicate strong user interaction.
Inventory
Now you have the right users on your site, but they still aren't converting… pricing and inventory are likely playing a role. From a digital standpoint, ensure you have high-quality photos and lots of them. High-quality doesn't mean they have to be outstanding but you're not going to lose any points if they are.  The absolute minimum is 24 photos per vehicle but more is always better. Stock photos are not acceptable anymore, even for new vehicles. They are better than nothing, but not by much. CDK found that having a single custom photo instead of a stock photo increased VDP views by 166% while having multiple custom photos increased VDP views by 349%. Furthermore, multiple custom photos improved VDP views by 69% over a single custom photo.
Website Performance and Conversion Optimization
Once you have determined you have the right type of users on your site and your inventory is adequate, it's time to improve the performance of the website. Evaluate website speed and optimization for both mobile and desktop. Use Google's PageSpeed Insights tool to see if performance is hurting the results of your website. Most of this performance is determined by the website provider. Several dealership website providers are not mobile-first and have poor performance. Test several dealerships that are on the same provider with the PageSpeed tool to see if the provider may be the issue.
To improve the results, you not only want to optimize your website for search engines but also for conversions. Knowing what tools you have on your site and which of those generate conversions at the highest rate is important to implementing a strategy.
Generally, trade-in value tools have the highest conversion rate. You can no longer get away with not telling the customer the estimated price of the vehicle if they are looking for it. If you don't give them some idea, they will find the information somewhere else. Don't miss the opportunity to leverage one of the best conversion tools. Trade-in tools apply to all types of customers on your website and that is why they have such strong conversion rates. Psychologically, a customer doesn't even have to consider themselves to be shopping or in the market for a new vehicle. They just want to know what the vehicle they already own is worth.
Payment and lease calculators are also invaluable if they are being used to generate conversions. Most websites payment and lease calculators look something like this: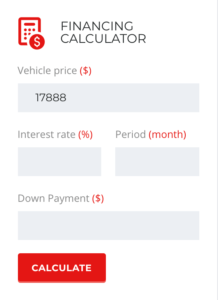 While there's nothing wrong with this example, it's a missed opportunity for generating conversions. Now here's an example of what it should look like. This is Kelley Blue Book's tool that you can embed on your site: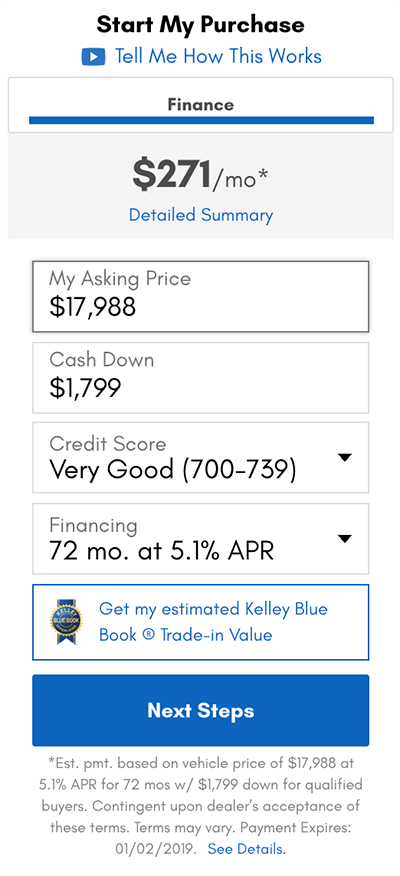 This is not necessarily an endorsement of this specific tool, but you can see there is a "Next Steps" button to capture the information the customer has entered and push them further down the funnel.
There are several other options for conversion tools including pre-qualifications and credit applications. Credit applications are almost always going to have a higher closing rate than every other tool but they shouldn't be your primary conversion tool. Credit applications ask for a lot of sensitive information (i.e. social security numbers) and as a result, have a low conversion rate. They are a tool for later in the purchasing funnel in most situations so make sure you keep the funnel wide enough to capture the masses. Pre-qualifications can be used as a primary conversion tool as they don't require as much information but they also usually require a customer to consider themselves likely ready to buy. This is still further down the funnel than either a trade-in tool or a payment calculator.
3. Routinely Evaluate SEM (Search Engine Marketing) Performance
The results of your Search Engine Marketing is largely dependent on the performance of the website and conversion optimization discussed above. Be sure to hit a 1% conversion rate on your website before investing in Google Ads, otherwise, the ROI will never be sufficient. 
Consider this example: A dealership has a 1% conversion rate on their website, a 10% lead-to-sale ratio and averages $2.50 cost per click on their Google Ads account. After 1000 clicks, they will have generated 10 leads and 1 sale. This puts their cost per lead at $250 and cost per sale at $2,500. While you can't expect as low of a cost per lead from SEM as you can from most third-party providers, $250 per lead at a 10% lead-to-sale percentage doesn't make sense for most dealerships. It's apparent how that 2% improvement in lead-to-sale percentage we discussed at the beginning can have a ripple effect on every marketing dollar spent. That 8% lead-to-sale percentage would cause the cost per sale to jump to $3,125, a 25% increase.
Let's take a look at what Google recommends as a budget guide for new car dealerships: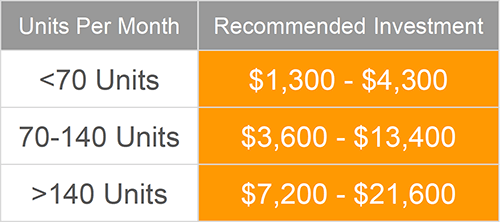 Again, this is for new vehicles only and we would recommend at least matching that spend for used vehicles (for most dealerships). These budgets can (and should) be adjusted based on the performance of Google Ads, the website, and lead-to-sale percentages, but they are a great place to start.
So, now that you have an idea of where your budget should be, you can evaluate the performance of the ads being run. To assess the effectivity of the account, it is important to understand the basics of Google Ads. 
Account Structure 
Campaigns
At the top of the account structure, we have campaigns which are relatively self-explanatory but do come in several different types. The most common campaign types being search and display. Search is mostly what we are discussing in this article. Search campaigns only target someone who is actively searching for something on Google.
Search Ad Example: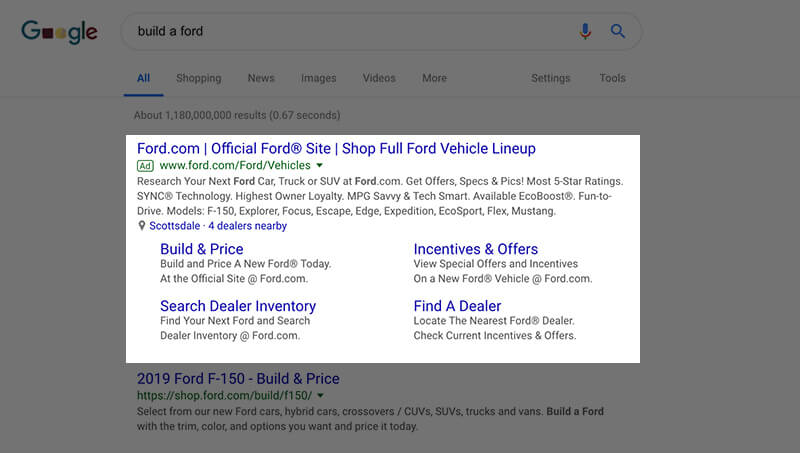 Display campaigns are ads that can show on millions of different websites with a banner style design. Usually, display campaigns have a very low cost per click when compared with search as they can be viewed by thousands of people for a very low cost. 
Example Display Ad: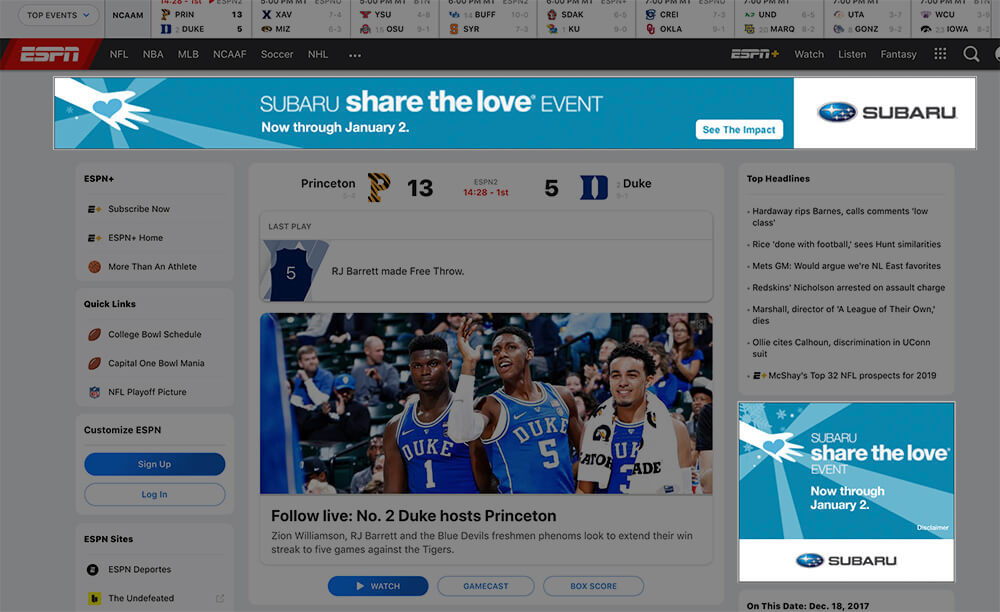 Ad Groups
Ad groups are groups of ads within campaigns. In search campaigns, these ads are matched with search queries using the keywords in that ad group.
Ads
As with any other advertising platform, this is the content that is displayed to the consumer. These ads can have prices, location information, click to call extensions, etc.
Keywords
Keywords are specific target words that trigger ads. The three main types of keywords are broad, phrase, and exact match.
Knowing these account structure basics, we can take a look at an example of what Google recommends for your account structure. As we discussed above, Google suggests going after the groups below with the majority of SEM spend.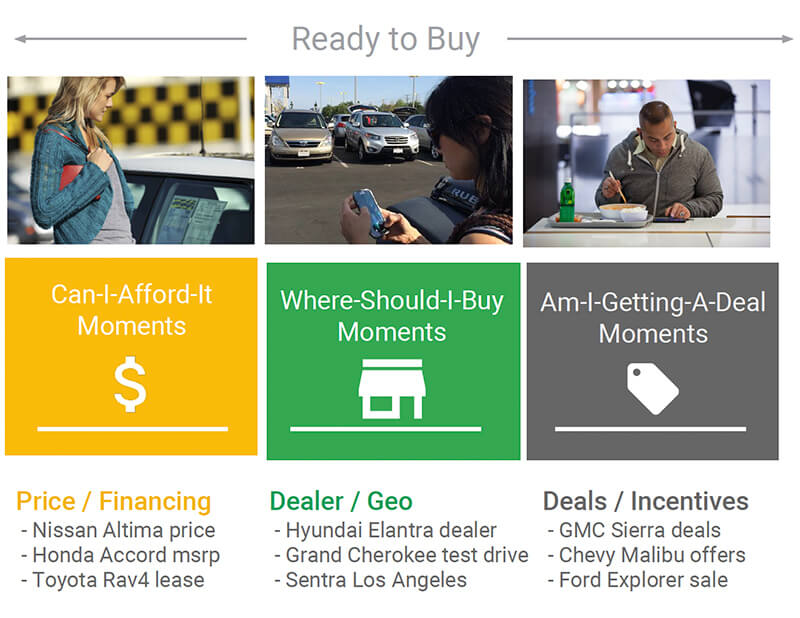 This is what that structure would look like:

Quality Scores & Ad Rank
Every time a search is made on Google, a bidding war ensues. Google then ranks each of these paid ads and decides where to show them or if to even show them at all. The basic formula that Google uses to rank these ads looks something like this:
PPC Bid x Quality Score = Ad Rank
The quality score is a score from 0-10 given to every keyword in your account and is made up of three different metrics: landing page quality, ad relevance and expected click-through rate. 
Landing page quality calculates the performance of the page the user is being sent to when they click on the ad. If a user leaves the site immediately after landing on the page,  then Google likely will lower the landing page quality score as the user interaction is below average.
Ad relevance is a measurement of how relevant the specific ad you are showing is to the search query. This also is a measurement of how relevant your website and landing page are to the query.
Expected click-through rate is calculated based on other ads that are in the same position. For example, let's say the average click-through-rate for ads in the top position is 10%. If you have a 12% click-through rate when you show in position 1 then you will have an above average score for your expected click-through rate.
Those three factors are combined to give you that score out of 10. That score is then multiplied by the bid to get your ad rank. 
Now that you understand the structure and format of your Google Ads account, you will be able to better guide your SEM provider and hold them accountable to the results.
Not all conversions are created equal
Make sure you learn what your SEM provider is tracking as conversions so you compare apples to apples. Most SEM providers don't just count the conversions where a prospect was converted to a lead. They usually track several other interactions (Ex. X minutes on a page or X pages visited) and count those as conversions as well. The reason they do this is to allow Google Ads to more accurately guess which kind of users you want on your site. You don't just want users that are going to fill out a form because that's a small percentage of your users. You want users that have a high level of interaction with your site as well. For those reasons, it's better to look at conversions individually instead of as a whole.
Learn More About Google Ads
If you are interested in gaining a better understanding of how Google Ads works, Google has an entire Academy for Ads you can check out. Additionally, they have the 2018 guidebook specifically for dealerships that was mentioned above. We also provide SEM management and training with live video conferencing and remote support. Click here to learn more.
4. Reviews and brand reputation
Social accounts and reviews across all digital platforms are your brand's reputation. Having 4+ stars on Google is likely not going to sell you any more cars than you should already be selling. Most decent businesses have good reviews so it is more important that you don't allow reviews to have a negative impact on your brand. Don't give anyone a reason to not shop at your store. Most review platforms, like Google My Business, discourage offering incentives to customers for writing a review on their platform. Instead of offering an incentive to the customer, offer the incentive to the sales staff to make sure they are asking for the customer's feedback. Asking is half the battle with reviews.
Tip: If you are really having a difficult time generating reviews, consider an automated tool that asks recent customers to review the dealership by email or text. 
Respond to every review on every platform. This is very easy for most dealerships. The amount of time it takes is minimal and it will have a lasting effect on your brand's reputation. You don't need to go back and respond to all past reviews. In fact, we would discourage that. Start by responding to all of the reviews today and set a schedule for when reviews will be answered every day moving forward. We also would recommend making answers to reviews personal by signing it with a manager's name. Take all conversations regarding negative reviews offline by offering the direct number of a manager they can speak with. If the issue is resolved, have the customer update the review. If they don't update their review after a few reminders,  make sure as the business owner that you respond.
Tip: Link Google My Business to Google Ads and Google Analytics to have your ads and Google My Business page show at the same time. 
5. Search Engine Optimization & Digital Footprint
The final strategy is the one that is primarily focused on the long-term benefits. Search Engine Optimization (SEO) is as term thrown around by almost every digital marketing company but what does it actually mean?
SEO is the process of changing or adding content with the purpose of improving how you rank organically (unpaid) on search engines. There are thousands of factors that influence how you rank on Google but the two most important results are being seen and providing a great experience to those that are seeing you. As discussed above, improving the conversion rate and narrowing the focus for the types of consumers you attract to your site will have a positive impact on SEO.
Some basics of SEO include internal/external backlinks and keyword-targeted content. External links are other websites that have linked to your site and passed some of their relevance and traffic for that page on to you. External backlinks help to increase your overall domain authority, a term commonly used to refer to the strength and number of backlinks. Internal links are simply links to other pages on your site. A solid internal link structure is another easy way to improve the SEO of your website as a whole. An example of Keyword-targeted content is blog posts.
Blog posts allow you to target local and industry-specific keywords with informational articles. SEO is all about casting a wide net to improve performance on more search queries. We recommend alternating blog posts between local and industry emphases. For example, a dealer in Arizona may have a local blog post that isn't focused on the industry at all. The article could be "10 Best Places To See In Arizona". This would increase local traffic for places to see and improve the overall website's relevance for local keywords. A well-done article might even generate backlinks from local businesses. Don't write blog posts if they aren't at least average in quality. This needs to be unique content that keeps the user engaged with your site for it to have a positive impact. Otherwise, it will provide no benefit for SEO. 
Dealerships are all about local SEO.  This means a link from a local newspaper can sometimes have more of a positive SEO impact than getting a link from a national website. That's because most of the keywords you are targeting are location-based even if they aren't in the search query. Google uses location data to provide more accurate results so the closer you are to the consumer and the higher your relevance is for the specific location, the more relevant you are to the search. 
SEO also increases the effectiveness of your SEM spend, by raising quality scores for specific terms. As quality scores go up, smaller bids are required and ad rank rises. 
Conclusion
There are hundreds of other ways to increase leads, especially considering we didn't even discuss fixed operations.
Always consider the ROI of every marketing investment and schedule routine evaluations.
Accurate tracking and automated reporting are critical to monitoring performance of everything digital in the dealership. Even tracking showroom traffic and the steps of the sales process can help to improve the effectiveness of marketing.
There is always more that can be done to improve lead generation so use some of these strategies to never settle with stagnant lead counts.