business cards
2 min read
Prevent your Business Cards from Getting Trashed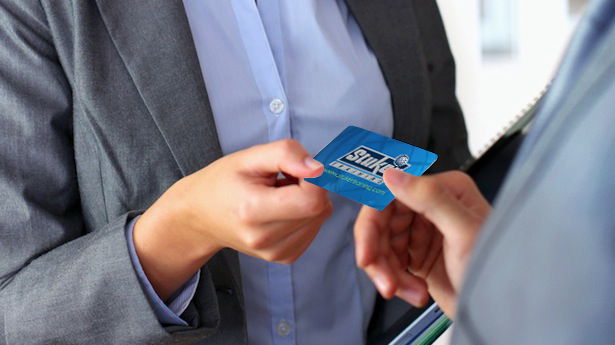 Handing out business cards require strategy because without it people fail to remember you for future business needs. Being forgotten might mean losing a repeat customer or worst it could prevent you from getting that next referral. After all, referrals are the Holy Grail for salespeople, accounting for more than 65% of new business. In fact, 400% of consumers are more likely to buy based off of a referral from a friend recommending the connection. The power of a referral and repeat business validate the importance of business cards. If you are still questioning its value, CNN conducted a study that showed for every 2,000 cards passed out dealership sales increased 2.5%. So, starting today, you absolutely must:
IMMEDIATELY STOP handing your cards out like cheap, free candy and IMMEDIATELY STOP being cliché, "here is my card, call me"
Making it rain cards without a strategy or a unique hook is a waste of time and money. Did you know that more than 27 million business cards are printed daily in the U.S.? The average consumer is drowning in cards from every business in town. Where do you suppose the final destination is for those cards? Odds are they end up in the trash can next to last night's supper. One statistics states that 88% – YES, 88% – of all business cards handed out will be thrown away in less than a week. The lifespan of a business card is short, but it doesn't have to be!
To move your card from the trash to the secret stash, there are a few things to consider: the appearance and style, the information provided and a distribution strategy. Design, formatting and print quality are very important, but even the most basic card can find a permanent home in a wallet by implementing the right strategy. Personalize your approach by hand writing your cell phone number on the available white space. Tell your customer that this is a private line that you are giving them exclusive access to and that it is extremely important that they not lose this card because this is their direct connection to you for any vehicle need or coffee run (insert humor). This makes the customer feel like you are going out of your way to give them something nobody else receives. Better yet, have a service number printed on the card (road side assistance, radio/key code, etc.) and state that they must not lose this card because it is the only way they can quickly find the number they need in order to connect with xyz. Basically the goal is to provide invaluable customer information that they never want to lose. If you are looking to increase the preservation value of your cards and use them to as subtle advertising mediums, opt for magnetic business cards that can easily be stuck on everyday surfaces. For those digital savvy folks, add your Facebook, Twitter and LinkedIn accounts. You could even consider adding a QR code that takes people to a specific website of your choice and allows you to track engagement. The creative options are endless!
Business cards don't have to be plain, old, boring business cards. Use them to start conversations, tell stories, create a sense of urgency and scope out referrals. Use them to your advantage, and start reaping the rewards. If you provide a clear, distinct reason on the importance of the card and compliment the reason with a story, your business card has a better chance of being used over and over and over again.
Statistical Data courtesy CNN and Statistic Brain
To get access to 24/7 virtual training for your dealership, call 480-999-5055.