BDC
3 min read
Part 2: Five Reasons Why Over 90 Percent of BDCs Underperform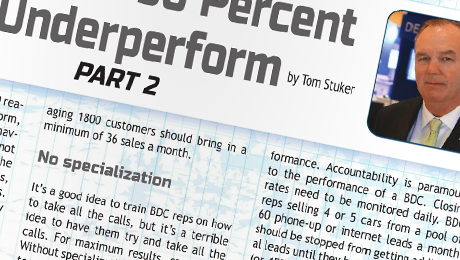 Last month I covered the top 5 of 10 reasons why over 90% of BDCs underperform (read article), which include: not being BDC ready, having the wrong BDC manager in place, not having 100% management buy-in, the need to boost outbound call volumes, and BDC reps lacking great phone skills. Hopefully you were able to work out any related BDC kinks since then; however, for those still seeking to perfect BDC intelligence, here are the remaining five reasons for underperformance:
Improper staffing
Staffing your BDC is a delicate balance. Overstaffing is accompanied by heavy expenses. In addition, it creates higher turnover because of lower sales opportunities per person. By overstaffing you will struggle to justify having a BDC altogether. On the contrary, understaffing a BDC could create bad work habits such as cherry picking low hanging opportunities. Understaffing doesn't maximize all the sales opportunities which is the main reason for building a BDC.
As a starting point for staffing, consider the following shared guidelines. BDC reps should NEVER handle more than 150 internet leads or phone-ups a month unless they have a sold ratio exceeding 15%. As far as calling back unsold showroom traffic, have 1 rep for no more than 300 sold opportunities. When calling database to mine for repeat and referrals, less than 3% of all BDC reps can effectively manage 1800 customers.  BDC Reps managing 1200 customers should bring in a minimum of 24 sales a month. A rep managing 1800 customers should bring in a minimum of 36 sales a month.
No specialization.
It's a good idea to train BDC reps on how to take all the calls, but it's a terrible idea to have them try and take all the calls. For maximum results, specialize. Without specialization, everyone on your team will focus on targeting inbound phone-ups or internet leads. In fact, they will even wait for the next one rather than devoting time to following up with other leads.
To prevent this from happening, implement a model that has the strongest people handling internet and phone-ups. The next level of talent should follow-up on unsold showroom traffic. The remaining individuals should be handling owner base follow-up. To capitalize on specialization, assign a minimum of 2 people to provide 24/7 coverage towards handling phone-ups and internet leads. Both reps should work together as one cohesive unit, with overlapping coverage, in order to team up for immediate assistance to prevent stalling a sale. The purpose is to complete the sale rather than lose the sale.
Absence of opportunity management.
An overwhelmingly high percentage of BDCs do not manage the sales opportunities close enough on a daily basis. They lack accountability and standards of performance. Accountability is paramount to the performance of a BDC. Closing rates need to be
monitored daily. BDC reps selling 4 or 5 cars from a pool of 60 phone-up or internet leads a month should be stopped from getting additional leads until they has sold at least sold 9 (or 15%). Work the 55 unsold opportunities before taking on more leads.
Poorly designed working space.
Yes, I am referring to room layout and design! There should be partitions and/or clearly defined work spaces for reps. Partitions not only serve as a sound barrier, but they also make it more inconvenient for reps to visit with each other between calls. All reps need a focused environment to concentrate in. A poorly thought out space is a major reason for the lack of productivity.
Bad pay plans.
Keep pay plans simple and based on results rather than activity. Salespeople and sales managers get paid on results and so should the BDC. Sales are easy to measure whereas appointments are more challenging. Consider this scenario, a rep schedules a first appointment that shows up, but does not buy. Do you pay for the 2nd or 3rd appointment? Finally, to reward committed employees, salaries should raise slightly based on tenure.
For your free BDC consultation, call Stuker Training at (800) 999-5277.