Alan Ram
1 min read
Auto Dealer Live Hosts BDC Roundtable Discussion with Tom Stuker, Bill Wittenmyer, Alan Ram and Sean Bradley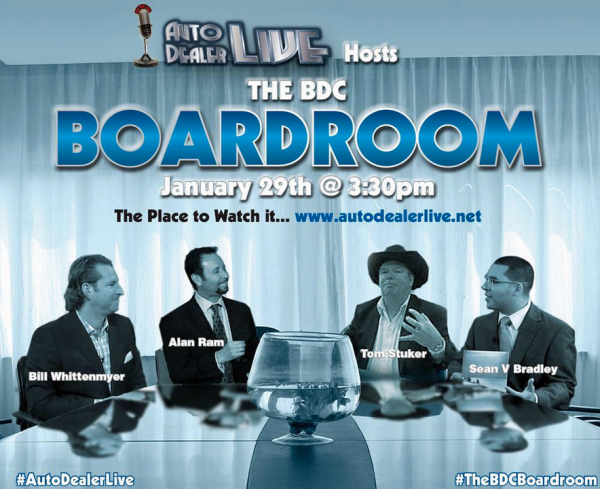 It's all about the business development center (BDC) on Auto Dealer Live Thursday, January 29th at 3:30 PM EST. Join radio show co-hosts David Villa and David Cribbs on their quest to conquer all things BDC at the first BDC roundtable discussion – #TheBDCBoardroom. Invited to the boardroom are four of the automotive industries most elite and respected BDC trainers – Bill Wittenmyer, Alan Ram, Sean Bradley, and founder of the BDC concept, Tom Stuker. The boardroom is designed to provide insight and perspective on how to properly start, manage and operate a booming BDC for Dealer Principals, General Managers, Sales Managers, BDC Managers, and more.
What a better person to learn from than the one man that started it all over 30 years ago and continues to drive dealership BDC success – Tom Stuker! Over the last year, Stuker has been featured multiple times in DealerSolutions Magazine [take a look], Auto Dealer Live [watch it] and CBT News [watch it] for his BDC intelligence solutions. And if you'd like to learn more about Tom and his philosophies, watch Tom's recent interview with Grant Cardone on Power Players [watch it].
Together, Tom and the boardroom are sure to give every dealership the information needed to turn any BDC into a worthwhile investment. Don't forget to tune in to Auto Dealer Live on Thursday, January 29th at 3:30 PM EST at www.autodealerlive.net!
About Auto Dealer Live
Auto Dealer Live is a weekly radio show that broadcasts nationwide for the automotive industry. Co-hosts David Villa, CEO of IPD, and David Cribbs, Lead Trainer of Auto Dealer University, bring together the most up-to-date news, information, controversy and methods being used around the country to progress the industry. Feature guests have included: Grant Cardone, Tom Stuker, Jim Ziegler, Tom Hopkins, Alan Ram, Danny Benites, Amanda & Erin Ryan, Laura Madison, Corey Mosley, Kate Frost and many others. To watch Auto Dealer Live, visit www.autodealerlive.net.