Guarantee your success with Stuker's Guaranteed Sales Success Training Manual! He has taken the best-of-the-best from over 30 years of experience and updated it for today's market. The 330 page manual is packed full of scripts and techniques on mastering the phone-up, getting unsold opportunities back in to buy, power prospecting, trial closing technique and more.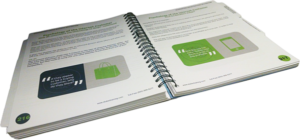 This is a must have for both rookies and veterans. Managers call us today, and we will show you how to provide this one-of-a-kind training manual to all of your salespeople without it costing your dealership a dime!
With over 20 different outbound scripts to help you turn your CRM into an ATM, you can use Stuker's step-by-step process that helps any salesperson sell 20 plus units a month on less than 10 quality conversations a day!
Pair The Manual With Virtual Training For The Ultimate Career Makeover
Take Stuker's Guaranteed Sales Success Training Manual and couple it with Stuker's online virtual training platform for the ultimate learning experience. Not only will you have a physical guide to keep by your side at all times, but you will also have 24/7, in-depth video training, interactive Q&A and access to Stuker's phone simulator to practice! LEARN MORE